Navigating the complex credit markets requires access to the right tools, information and insights. Today, the world's financial decisionmakers rely on our market-leading CreditSights Risk Products to better manage risk.
When it comes to analyzing and assessing credit, our opinions, ratings and credit-risk models are based on a transparent and logical approach. Our risk products have been thoroughly back-tested and proven to produce accurate, early warnings on potential defaults and rating movements.
We combine the best aspects of equity-style (Merton) models and fundamentally derived (Altman) models to produce our three cornerstone risk product outputs: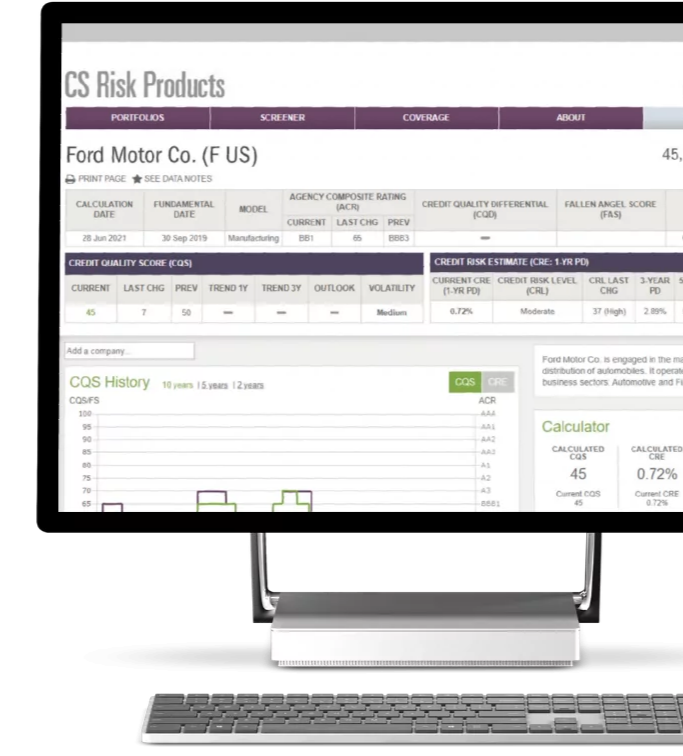 Comprehensive and Predictive
A one-year forward probability of default, BondScore is an important tool in your analytical arsenal. A powerful way to leverage these credit risk estimates on 4,800 firms is to integrate them with our Credit Quality Score. We offer these medium-term quantitative ratings on 5,400 firms.
Monitoring multiple portfolios, reviewing new debt issues, and screening for mispricing has never been easier.
Download Brochure
Learn more about BondScore and Credit Quality Score
Get Ahead of the Action
Save time and resources with Fallen Angel Score, our proprietary estimates of the likelihood of a downgrade from investment grade to high yield.
Stay ahead of ratings moves with our date-driven predictions
Keep your pulse on more than 500 BBB-rated credits
Narrow your focus to issues based on their score
Rely on our easy-to-understand scores (very low, low, moderate, high, very high)
Avoid any capital charges or forced selling due to investment-grade mandates
Avert wider spreads and greater volatility that go along with high-yield crossovers
LEARN MORE ABOUT FALLEN ANGEL SCORE
Request a Trial
Receive complimentary access to our CreditSights research platform, where you can browse our library of expert-produced insights and reporting. Qualifying institutions can gain access to our platform for a 1-month trial.
SIGN UP NOW
Know More. Risk Better.®
Sign up to receive our latest credit insights direct to your inbox.