Whether you are looking for short, medium, or long duration holdings, CreditSights quantitative and fundamental research offers the deep analysis and continuity of coverage to ensure your portfolio delivers optimal yield capture.
Expertise Expedited
Breadth & Depth – our analysts offer deep sector expertise across 35 industries plus Munis and Strategy teams.
Direct Analyst Access – via the Ask an Analyst tool, in person meetings, sector teach-ins and a slate of conferences and webinars eliminating friction in your intel gathering.
Impact Your Workflow
Downgrade Notice – our Risk Products tool provides credit deterioration and rating downgrade warnings, screening for approved issuers, and idea generation in the form of rising stars or fallen angels.
New Issue Notes & Coverage – timely releases offering a balanced unbiased assessment. Over 800 new issue reports published annually providing.
A Voice You Can Trust
100% Unbiased – we do not underwrite securities or manage assets; we support and guide those who do.
Experience – team of 100 global analysts with an average tenure of over 10 years covering a sector, our analysts help provide through-the-cycle context.
Market Analysis
Relative Value – CreditSights' methodology incorporates peer set data and sector expertise for near and long term outlooks.
Earnings Content – quarterly detailed syntheses for the nearly 1,000+ earnings reports released by our company coverage universe.
Local expertise + deep sector knowledge = intellectual capital you can count on.
Depth of research surpassing
150,000 Articles
Read and referenced, topping
14 Million Article Views
We don't underwrite or manage assets
100% Unbiased
The World's Top Decision Makers Use CreditSights to Become Truly Informed.
The trusted resource for the largest consumers of credit research, we're proud to provide our insights to improve their capabilities, helping them to Know More. Risk Better.®
Top 10 Global Pension Funds
100%
Top 10 Largest US Asset Managers
90%
Top 10 Life and P&C Insurance Companies
100%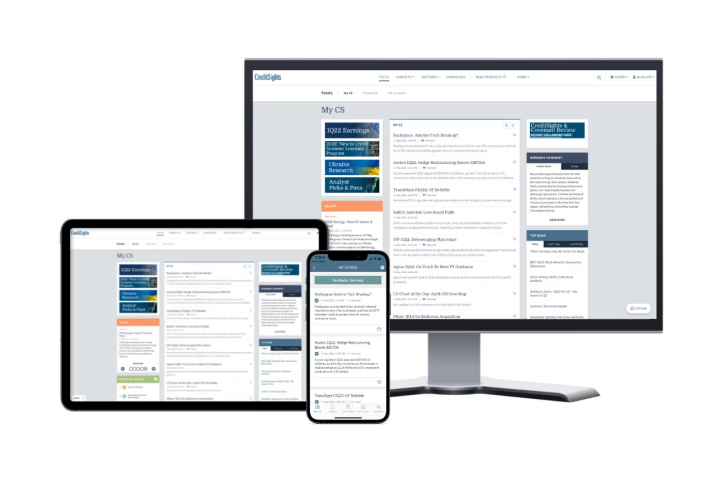 Anytime, Anywhere Access
From at your desk or on the go, at any time of day, we keep you connected to the research, data and news you need to better manage risk—a seamless flow of credit insights and information for a market that never sleeps. Get breaking news, same-day analyses and custom-curated content across multiple platforms, wherever you need us to be:
API Access
"Ask an Analyst" Direct Access
Bloomberg Terminal
Client Portal
Email Alerts
Events
Mobile App
One-on-One Meetings
Quantitative Tools
Request a Trial
Receive complimentary access to our CreditSights research platform, where you can browse our library of expert-produced insights and reporting. Qualifying institutions can gain access to our platform for a 1-month trial.
SIGN UP NOW
Know More. Risk Better.®
Sign up to receive our latest credit insights direct to your inbox.